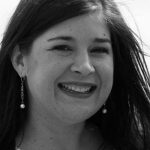 The Board of Directors of Romeo District Library are pleased to announce the appointment of Claire Lopiccolo as the library's new director.
Lopiccolo joins the Romeo District Library with extensive engagement-focused accomplishments at libraries throughout the region, including Rochester Hills, Orion Township and Independence Township public libraries.
"We're thrilled that Claire is joining us. She's a natural leader and we look forward to her guidance and vision as we put our new strategic plan into motion," said Board President, Elizabeth Miller. "Claire's natural leadership style is a terrific fit with our new strategic plan, which sets an exciting course of innovation for the library and delivering greater value for everyone in the Romeo District Library."
Prior to joining the Romeo District Library, Lopiccolo was the manager of youth services for Rochester Hills Public Library. Some of her accomplishments include serving on the board of the Michigan Library Association, chairing MLA's former Children's Services Division and graduating from the MLA Leadership Academy. Lopiccolo established "Think Link," a partnership between Orion Township Library and the Lake Orion Community Schools, and worked closely with downtown development authorities and parks and recreation department to develop programming partnerships. She has also obtained numerous sponsorships, donations and grants to support and expand public library services. She earned her Master of Library and Information Science degree from Wayne State University and her Bachelor of Arts in English and Business from Valparaiso University.
Romeo Public Library engaged the services of Kent District Library in the recruiting process because of their extensive experience of helping libraries to recruit and retain new executive leadership.
The Romeo District Library has served the village of Romeo, Bruce Township and Washington Township since 1900. The library's mission is to provide services to the community that educate, enrich and entertain.