Director
Claire Lopiccolo
ext 1018
claire@romeodistrictlibrary.org
Administrative Assistant
Linda Schultz
ext 1017
linda@romeodistrictlibrary.org
Finance Manager
Carla Heck
ext 1028
carla@romeodistrictlibrary.org
Facilities Specialist
Ben Pollock
ext 1020
ben@romeodistrictlibrary.org
Graubner Library
Operations Manager

William Blevins
ext 101
william@romeodistrictlibrary.org
Adult Services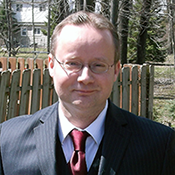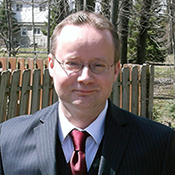 Glen S.
Grew up in Shelby Township, earned his BA at Oakland University and his MLIS at Wayne State University. He has been working in libraries since 1996 and enjoys working with the public. He interests include: history, classic Mustangs, Model T Fords and all things funny.
ext 1009
glen@romeodistrictlibrary.org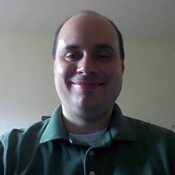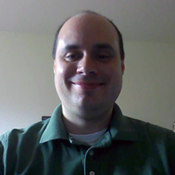 Dominic M.
Dominic McLaughlin is the Technology Services Librarian for Adult Services and acts as the Tech Tutor for assisting patrons with devices or creating directions for apps, including ebooks, audiobooks, and academic tutoring. In his spare time as a husband and father of three, he enjoys tech history, retro video games, and music.
ext 1019
dominic@romeodistrictlibrary.org
Teen Services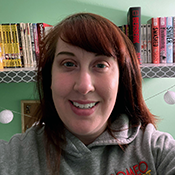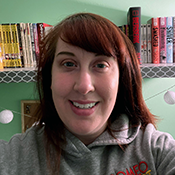 Therese B.
While I'm not working with my wonderful and awesome teens, you can find me reading manga and graphic novels. I mostly read middle grade and young adult books. Right now I'm reading: The List of Things that Will Not Change, I Love You So Mochi, and Shadow of the Batgirl.
ext 1004
therese@romeodistrictlibrary.org
Youth Services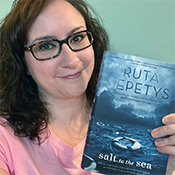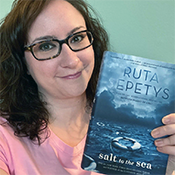 Erin M.
Erin is a Children's Services Librarian who loves working with children of all ages. She also enjoys Middle Grade and Young Adult books, all things Italy, and dogs.
ext 1024
erin@romeodistrictlibrary.org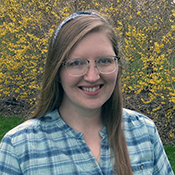 Emily P.
My default reading choices are classics like Jane Austen, Little Women, Lord of the Rings, The Chronicles of Narnia, etc. I also love Middle Grade fantasy and anything with excellent wordsmithing, like Ella Minnow Pea, The Phantom Tollbooth, and the Mitford series.
ext 1034
emilyp@romeodistrictlibrary.org
Kezar Library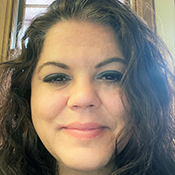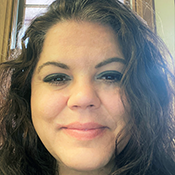 Stacie G.
I have been a librarian for 15 years and I love it! My favorite things to read are horror, true crime, murder mysteries and middle school reads. My favorite things are reading, crocheting, dinosaurs and anything pink!
stacie@romeodistrictlibrary.org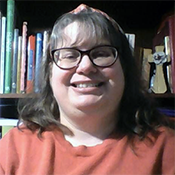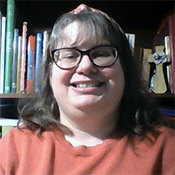 Jeanette S.
Hi! I'm the Children's Librarian at Kezar. I live in Addison Twp., with my husband, 2 children (one in college and one in high school), and our cat. My hobbies are reading, cooking, Instagram, and playing Animal Crossing: New Horizons. I've been at RDL for 14 years.

jeanette@romeodistrictlibrary.org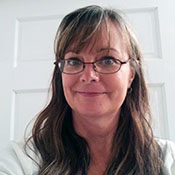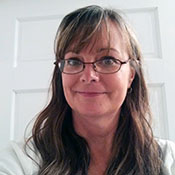 Julie O.
This community is rich in history and my job is "Preserving Romeo's Past for Future Generations." I enjoy working as an Archivist at the Romeo Community Archives at Kezar, and I learn something new every day! I like reading quirky types of books, such as "Lily and the Octopus" (warning: tearjerker!) and also reading true crime, mystery, thrillers, and fast-paced non-fiction reads. In my spare time, I crochet, make jewelry, and scrap metal art.
https://romeocommunityarchives.blogspot.com
ext 1035
julie@romeodistrictlibrary.org