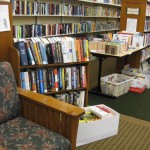 Sorry – Not accepting book donations until September 1, 2013

The Friends Bookstore is being re-organized and improved! For this reason, we will not be accepting book donations beginning February 1 through September 1. We are very sorry if this causes any inconvenience. If you are ready to donate during this time, we recommend you visit the Salvation Army at 70945 Van Dyke in Bruce Township (just across from Sheena's).
We are open during our renovation – please come in and browse!