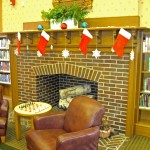 We have some great shopping ideas for the holidays – Books! Books! Books!
The Friends' Used Bookstore is open at Kezar Library at 107 Church Street during regular library hours.
The Bookstore is coming to Graubner at 35821 Van Dyke!  The official launch is on Saturday, December 13 from 10 am – 6 pm – with refreshments and free gift bags. The book carts at Graubner will feature better quality books that are perfect for holiday shopping.
Our Special Holiday Sale at Kezar will feature Books for Children – Saturday, December 20 from 10:30 am – 1:30 pm.