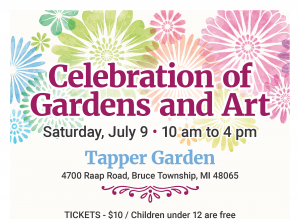 Buy Tickets
Event Proceeds
Our Sponsors
Celebration Exhibitors and Musicians
Directions to the Celebration
Buy Tickets
Tickets are available at either branch of the Romeo District Library
Graubner Library – 65821 Van Dyke, Washington MI 48095
Kezar Branch Library – 107 Church Street, Romeo, MI 48065
Starkweather Arts Center – 219 N Main Street, Romeo, MI 48065
OR click the button below to purchase tickets online and we will email your tickets.
Event Proceeds
Proceeds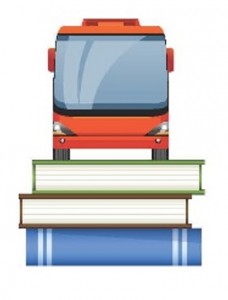 from the Celebration of Gardens and Art will benefit the Friends of the Romeo District Library's Bookmobile Fund.
A portion of the proceeds will benefit Starkweather Arts Center's Historic Preservation Fund.
Our Sponsors
Thank you to our generous sponsors for their support of the Celebration!  Click on the sponsor logos to visit the websites and find out more about these terrific businesses and organizations in our community.
The Romeo District Library Board of Trustees:
Deborah Beauvais, William Grandstaff, Gary Kopp, Elizabeth Miller, and Mike Meloeny
Celebration Exhibitors and Musicians
Ancient Gallery Landscape Design will bring garden art and landscape design by Tom Hoyt to the Celebration. "My sculptures have grown organically out my relationship with nature, its form and movement, the beauty of the stones, the structure of the trees. Stone and steel have enduring qualities, where strength and grace can merge. As the steel is drawn from the earth, forged and transformed with fire … the stones, unburied, are lifted into clear view and the sculpture can carry the deeper levels of experience into form."
Elena Bozzi will read from Puddle: A Tale for the Curious. She will
have nature-related activities as well writing materials and outlines for poems so people can take original pieces home inspired by the event.
We are so pleased to welcome Ed & Gretch to our garden event again this year!
Leo Hudson makes unique bird houses and garden benches mostly made from reclaimed wood and barn wood.
Landscape Direct consults and supplies hardscape building and softscape plant materials for construction and renovation for development of parks, parks, water features, athletic fields, water gardens and landscapes for homes and businesses. They give the assurance of "hands-on" field experience, complimented by the continuing education programs our staff and crews attend, to provide the best service and expertise. Landscape Direct is an Oak Sponsor of the Celebration.

Lori's Corner will have Young Living essential oils available for sale and will help you learn how how essential oils can help you with your garden and to control garden pests, parasites on animals and other issues. Lori also makes wreaths, clocks, up-cycled items, refinished furniture and other craft items.
Pondering Waters specializes in all types of indoor and outdoor custom water feature design and installation, including ponds, water gardens, waterfalls and pondless waterfalls. They will share their knowledge of the delicate ecosystems that make up a biological environment such as a pond and offer products and services to help you design and maintain an environment you will enjoy for years to come.
Rocks'n'Roots offers a friendly, helpful and informative atmosphere to make any landscape project, whether a single bag of mulch or a complete landscaping, be an easy and fun experience. They will demonstrate outdoor accessories at the Celebration, including an outdoor portable pizza maker. You can come enjoy a slice of pizza and get some great ideas for your garden! Rocks'n'Roots is a Sycamore Sponsor of the Celebration of Gardens and Art – while you enjoy your pizza, they encourage you to make a donation to the Starkweather Arts Center. 

Starkweather Arts Center will present local art for sale and artists associated with the center will be located throughout the Tapper Garden, creating art in various media. Starkweather Arts Center is an Oaks Sponsor of the Celebration of Gardens and Arts. Special thanks to Starkweather for coordinating our musical guests!
Trois Bouffons was formed in 2007 in an effort to preserve French Canadian music, community dance and storytelling. The word "Bouffon," dates back to medieval France when jesters entertained the king and his court. After the fall of the monarchy, the "Bouffon" became a "busker" or "street performer." In French Canada, the word is most closely associated with interactive street performers, Quebecois vaudeville and the veillée, or "social gathering" for which entertainers were hired to perform for communities. The veillée performance could last an entire weekend, playing four hours each night!
Kathy Jo Voigt is a Doterra wellness advocate and will bring essential oils and products made with essential oils. She will share information about tiny spaces gardening that incorporates the use of essential oils.
Directions to the Celebration
4700 Raap Road, Bruce Township, MI 48065
Directions from Romeo: 
West on 32-Mile Road for 2.9 miles; then
North on Fisher Road for 1.4 miles; then
East on Raap Road for 0.2 mile