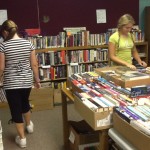 Every third Saturday, the Friends of the Romeo District Library host a special book sale when shoppers can browse the entire stock in the basement at the Kezar Library of the Romeo District Library. On November 15, the Friends will host the Big Mystery Book Sale to focus on their large and diverse collection of mystery books and to offer them at special prices.
Jean Viviano, president of the Friends, says "The Big Mystery Book Sale is being held in November for a reason! The weather is getting colder and it's the time of year when everyone likes to curl up with a good mystery story."
The Friends Used Bookstore on the upper floor of Kezar Library is open Monday – Saturday during Kezar Library's regular business hours. All proceeds from the book sales directly support enhancement to services Romeo District Library provides to the residents of Bruce and Washington Townships and the Village of Romeo. The Friends of the Romeo District Library is a nonprofit organization dedicated to promoting and supporting the collections and programs of the Romeo District Library.
Date and Time:
10:30 am – 1 pm on Saturday, November 15, 2012
Location:
Friends Used Bookstore
Romeo District Library – Kezar Library
107 Church Street, Romeo, Michigan
Prices:  
Hard Cover and Trade Paperback Mysteries – 2/$1
Mass Market Paperback Mysteries – 3/$1
Special / Better Quality Books – Priced as marked