August 2015 Update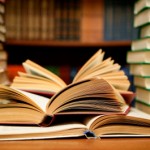 We had a terrific time at the Graubner Book Store Grand Opening on August 15. Lots of good folks came by and did some shopping and got to know the Friends and our new bookstore. Thanks, everyone! And congrats to Jill who won a Friends book bag! We are open during all library hours and restock the shelves daily – see you soon!
This month the Friends' Board approved funding for the Battle of the Books 2016 ($700) and to purchase picnic tables and umbrellas for the Library staff ($659).
The next Kezar Book Sale will be Saturday, September 19 at Kezar Library (107 Church Street, Romeo 48065) from 10 a.m. to 1:30 p.m.  All books in the basement store will be sold at reduced prices and members get 20% off!
Be sure and mark your calendars for the Big Book Sale on Saturday and Sunday, November 7 & 8 at Graubner Library (65821 Van Dyke, Washington 48095). We will have a huge stock of sale-priced books. Saturday morning is Members Only Shopping. Sunday afternoon we will slash prices even further with a Bag Sale ($1/bag of books).
Please be sure and join us soon for an event or sale or just stop by and browse the book stores at Graubner and Kezar Libraries. The book stores are open whenever the libraries are open. For more information about membership and volunteering, please visit our website at romeodistrictlibrary.org/friends/ or contact Carol at carol.friendsrdl@gmail.com or call Donna at (248) 736-1649.