Meet the Friends of the Romeo District Library
************************************************************************************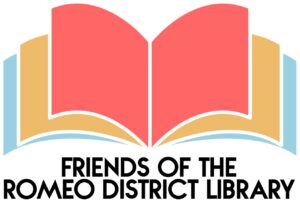 The Friends of the Romeo District Library holds its monthly meetings on the 3rd Tuesday of each month at 7 pm at the Graubner Branch, 65821 Van Dyke in Washington. Everyone is welcome to attend.
The 2023 Board of Directors
Marcie Cornett – President
Al Kresse – Vice President
Joyce Hennessee – Secretary
Sandy Pelfrey – Treasurer
Carole Sutherland – Director
Jo Juengel – Director
Ann Kresse – Director
Linda Luther – Director
Beth Vollbach – Director
Judy Most – Director 
Janelle Danyko    
Claire Meeker – Library Director (non-voting member of the Board of Directors)
************************************************************************************
The Friends of the Romeo District Library is a non-profit organization that stimulates community appreciation of the library's resources and services; encourages gifts and bequests in support of the library and sponsors special programs in cooperation with the library staff. The Friends have been in operation since 1987.
The support of the Friends helps the library to offer services above and beyond those services funded by tax support. Recent projects have included the support for summer reading programs and Battle of the Books. We hosted an author event with local author, Karen Dionne, provided a donation to the Romeo Community Archives and provided funding toward the new Bookmobile for the library. The Friends is an all-volunteer organization. Community members and Library patrons who volunteer and donate can see their support going directly to the library.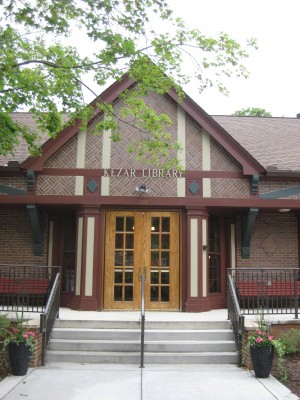 Friends' events not only raise funds but also raise public awareness for the excellent programs and services offered by the Romeo District Library.
The Friends Used Book Stores are located at the Graubner Library at 65821 Van Dyke in Washington and the Kezar Branch Library at 107 Church Street in Romeo and operate during library hours. We have a large selection of books, DVDs, and music CDs. available for sale. The selection changes on a weekly basis – so it makes sense to visit often!  Saturdays at Kezar everything is half off!  Visit the book store page for our standard price list.
Liaisons to Friends Board
Claire Meeker – Romeo District Library Director
Bill Grandstaff – Romeo District Library Board
Stacie Guzzo – Kezar Branch Library
Grace Venet – Starkweather Arts Center
Board Manual
Board Resources
Friends of the Romeo District Library provides support by funding projects that enhance literacy in our communities of Bruce Township, Washington Township, Village of Romeo, and beyond. Some of the projects are renewed annually and others are one-time events or purchases by the Romeo District Library. Projects are generally initiated by the staff of the Romeo District Library.
An application is provided HERE for Library staff who would like the Friends to consider funding for a project.
Thanks to Romeo High School Art Students
The Friends held a contest for the art students at RHS. This year the friends have chosen 3 designs to use on some of our membership brochures, posters, bookmarks, etc. Below are the selected drawings for 2023. Look for this talented artwork to be displayed in use at the library.